I registered for this race on a whim after running the Komen 5k on the 11th. Before the Komen, I hadn't run a race in nearly two months and afterward I realized how much I missed running in races. I had seen the Running of the Bulls 8k listed and had given it some thought, but decided against it because Hiroko wouldn't be able to go because of work and because the fact that it was in Durham -- about a 40 minute drive from where I live. Honestly, 40 minutes isn't that far, but I have never gone more than 15 minutes for any of my races (except the 8k in Hawaii, but even that one was only 10 minutes from our hotel), and basically Durham is one of those place that always seem farther away in my mind than what it is in reality. But, after a hectic start to my week and continuing to jones for a race, on Wednesday I decided to register.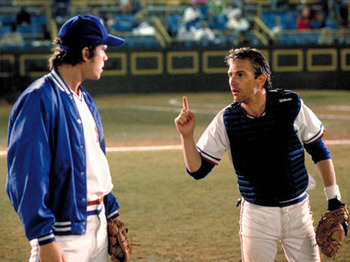 The race was being held in the historic and revitalized areas of downtown Durham, including the American Tobacco Historic district, the new Durham Bulls Athletic Park and finish with a lap of the warning track inside the old Durham Athletic Park where the film Bull Durham was filmed. This area of Durham also happens to be the only part of Durham that I know anything about. So, I knew that the course would have some hills, but I didn't think that the hills would be as difficult as the Komen's hills. So, Friday night Hiro and I trekked to the
The Bull City Running Company
for the packet pick up before we headed out to Chapel Hill for dinner.
Race Day:
I got up at around 5am to give myself plenty of time to make the 7:15 start. I left the house with plenty of time and didn't figure to hit any traffic. However, I was dead wrong. Just outside of Durham there was some kind of road work going on that had traffic at a stand still. Since, I didn't know the area at all, I waited it out rather than try to take and alternate route and risk getting lost. I should have gotten to the race with about thirty minutes to spare, but I ended up parking my car at 7am and still needing to find the starting line. I was only about a half mile away, which I used as a warm up. Once I got to the start, I couldn't find any port-a-johns set up, which I though was odd. However, I quickly realized that we were allowed to use the restrooms a the Durham Farmer's Market, which was near the starting line. After returning from the bathroom, I noticed that everyone was moving towards the starting line for the beginning of the race and I would be stuck near the rear of the field of over 700 runners. But, I figured that I could use this as a way of keeping myself from going out too fast and decided to just deal with it.
The Start of the Running of the Bulls 8K
Mile 1:
On my way to the race, there were just tons of crap songs on the radio, and I was just ecstatic that not one of them had managed to lodge itself into my head. It took me 36 seconds to get through the start, there were just tons of people in front of me, and the course start on a hill, but I was just happy to have made it to the race on time and decided to just focus on the race ahead. After the initial hill, which lasted about a quarter mile, the rest of the first mile was fairly flat and I spent it trying to make my way through the pack without getting boxed in or expending too much energy weaving around people. The first mile felt really slow, and it was when compared to the first mile of nearly all of my other 8 or 5k's, but I think that it was more in line with where I should have been on those other races. I did the first mile in 9:24.
Mile 2
:

One of the many awesome people that
helped with the Running of the Bulls 8K
 The volunteers at this race were really awesome! They had
the course marked of extremely well, had people at nearly every major intersection and turn, and all of these volunteers had cowbells, which they rang with great zeal. Honestly, this was one of the most organized races that I have run. During the second mile the folks with the cowbells helped me out a great deal and gave me something to focus upon other than the hill at the end of the second mile. As I passed on person, I couldn't resist the temptation to do my best Christopher Walken and demand "more cow bell!" Overall, I was feeling fairly good after this mile, and I tried to think of the rest of the race in terms of a 5k. I did Mile two in 8:54.
Miles 3 & 4
:
I'm not sure where things started to go a little sideways for me in this race, but it was in these two miles, so I'll deal with them together. Mile 2 had ended with a water station, which I never handle well. I fumble with cups, never stop to drink, and always fill like crap for about 30 seconds after drinking. I came out of this one the same as always. I went right into a hill, but again was able to focus on bell ringers rather than the hill. Still I could feel myself beginning to struggle as we made or way along a flat stretch towards another hill. My confidence began to waver partially because I didn't know the course and how many more hills we were in for or where they were, but there was something else going on too. I wasn't willing to hurt. I was running alright, but I was holding back and not willing to dig. I ended up running a fairly complacent third mile, and only ran it as fast as I did because of a large downhill portion. I ran it in 9:19. I kind of began to realize that I had more in the tank and needed to work harder towards the end of the mile. The fourth mile began with slow deceptive incline that caused a lot of people around me to begin grousing about. This portion is where I really seemed to needlessly lose time. I should have pushed harder to cover this portion of the course faster. I had even picked up my pace at the end of the third mile, but backed off allowed the complaining of the people around me to give myself an excuse to not push. After getting through this slow portion of the course, I forced myself to pick up my pace. I was irritated with myself for not running hard and decided that I would attack the last mile of the course. I was able to salvage the second half of mile four and do it in 9:31, which would be my slowest mile of the day.
Mile 5
:
Running. For the first time in this race I begin to run. I don't know what is ahead of me but I am beginning to pick up my pace. I got really confused and thought that we were covering a different part of the course and that we had one more hill or I would have pushed even harder than I did. Regardless, for me, I am steamrolling through this mile. The fastest mile I had done in a race since I got Old Bob is 8:03 at the NHL All Star 5k's first mile. That consisted of a major downhill that I exploited and still destroyed me for the rest of the race. This mile did have a downhill to it, but it was nothing to right home about and I was already attacking and pick people off well before the downhill. By the time I entered the stadium, I was committed to legging it out to the end. As soon as stepped
I am the orange speck in the back of this picture, but the guy wearing 669 finished four people behind me.
out onto the field I went into an all out head long sprint and tried to pass as many of the people in front of me as I could. I sprinted all the way across the warning track of the out field, made the turn and at the left field foul line and headed for the finish, which was set up somewhere between third base and home plate.
Looking for the finish line.
Conclusions:
Crossing the finish
I did the last mile in 8:00 minutes flat, which makes it the fastest mile I have done in a race since I got my Garmin and tells me that I needed to push harder in this race. I have been reluctant to test my limits in my last few races and have stayed in my comfort zone. If I am going to run scared, I need to just save myself the registration fee. I run races to test myself and to gauge my improvement as a runner, and you
can'
t measure your improvement if you are only looking how you run at 80% of your ability. I finished the race with a chip time of 45:08, but took no risks. I had a great time at the race and am starting to realize my mistakes, so I count it as a huge success. But, this race will be an even greater success if I can force myself to run harder at my next race rather than sit back and run complacently like I did in this race until the last mile.
***I want to give a huge shout out to Anthony at
Running Down
for letting me gaffle his photos for this post. I really appreciate it!***